Biography of Johnny Weissmuller
Note. The information given below is the best available, although contradictory details have come to light. Corrections and addenda will appear as they are confirmed.
  The Hollywood Walk of Fame bears his star on the north side of Hollywood Blvd., between Whitely and Hudson Avenues, next to Maureen O' Sullivan's (1911-1998), and a few scant feet from that of famed "B" movie producer, Sol Lesser (1890-1980). During his lifetime he won five Olympic gold medals for swimming in the 1924 and 1928 games, in addition to 52 national championships. In 1950, the sportswriters and sportscasters of America voted him by an overwhelming margin the greatest swimmer of the half century. And on ending his amateur status, he went on to become the best known and best loved of all the cine Tarzans. He was Johnny Weissmuller.
  Born Peter Jonas (John) Weissmuller in Freidorf, in the Banat region in what was then part of Hungary, on June 2, 1904 (note) , Johnny was first introduced to swimming when the Weissmullers were living in Chicago, and Johnny, along with his younger brother Peter, was paying regular visits to Fullerton Beach. And in 1916, Johnny made the YMCA swim team, lying about his age.
| | |
| --- | --- |
| Peter Sr. and mother Elizabeth with their sons | Johnny and younger bother Peter |
  Following World War I, Weissmuller, Sr. died of tuberculosis or brown lung, presumably contracted as a result of his excessive exposure to the coal mines of Windber, where he had had to toil long hours to pay off debts incurred by the arrival of his second son. Johnny quit school and got a job, first as a bellhop, later as an elevator operator.(note)
  Many versions exist as to how Johnny got a chance to audition for William Bachrach, the legendary swimming coach of the Illinois Athletic Club. The following account, reported in The New York Times, one year after it happened, is probably as accurate as any.
  "A little more than a year ago, a member entered the Michigan Avenue home of the Illinois Athletic Club with a slender 16 year old youth who had ambitions to become affiliated with the Chicago Organization which was famous for its record-breaking swimming teams. The boy knew that he could swim. He had read about the tricolor swimmers, Perry McGillivray, Norman Ross, Hebner, Vosburgh and others and he wanted to cast his lot with them. The member, however, was skeptical of the youngster's chances of gaining a place against the galaxy of stars already in the I.A.C. fold. But after listening to the boy's appeal for more than a month, he finally promised to introduce him to coach Bachrach, the tricolor trainer of watermen.
  Finally, one day, the boy's persistence was rewarded and he was taken over to the I.A.C. pool and brought before coach Bachrach. `Here's a fellow who thinks he can swim,' was the member's half-hearted explanation for taking up the coach's valuable time with an unknown youngster.
  Slipping into the pool, the boy traveled through the water with a crude stroke but one that showed unusual power. Immediately Bachrach knew that he had what is known in the sporting parlance as a `find.' "
  Bachrach agreed to train him to be a sprinter, and under the great coach's tutelage, Johnny developed his famous "six-beat-double-Trudgen crawl stroke," which Bill Libby described in an article written for SAGA Magazine (January 1965).
  "He swam with his back arched and his head, shoulders and chest thrust out of the water. He shook his head loosely from side to side, inhaling and exhaling on both sides. He cocked his elbows high, drove his arms down into the water hard and behind him hard. While he kicked six beats to every cycle of his arms, he considered kicking of consequence only to maintain balance, stay high in the water and reduce drag."
  Training officially began in October 1920, when Johnny was sixteen, and he learned from the experts. From Duke Kahanamoku he learned to kick; he learned Norman Ross's rolling relaxed arm-and-body stroke, as well as his starting technique. He copied Harry Hebner's expert turns.
  Armed with these skills, Johnny went to a tryout for the junior men's 100-yard event in 1921. Despite everything he had learned, the lad had bathing cap troubles and lost the race. It is reputedly the only "official" race he ever lost.(note)
  Johnny's official competitive debut took place on August 6, 1921 at the Duluth Boat Club. It was the National AAU 50-yard championship, and he won it in just under the world record. In September of that year, he set his first world record swimming against Stubby Kruger in the 100-yard race at Brighton Beach, New York. Before long, sports columnists were calling him by such epithets as "Prince of the Waves," "the Human Hydroplane" and the "Chicago Whirlwind."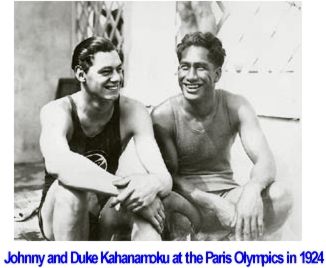 In 1922, the IAC went to Hawaii for the National Championships. There Johnny was to race against the legendary Duke Kahanamoku. Realizing that the Duke's reputation would be a mental handicap for his swimming star, Bachrach informed Kahanamoku ahead of time that Johnny could break his record, and invited him to attend a practice and time Johnny, using his own watch. Johnny bested his record by three seconds. That evening, the media reported that the Duke was ill, which was apparently true. Consequently, Johnny's and the Duke's aquatic paths did not cross until the 1924 games in France. But the Duke's illness paved the way for the IAC to win most of the events. Johnny confessed later that had he raced against Kahanamoku during this competition, he would have felt too intimidated to beat him.
  During the 1924 Olympic Games in Les Tourelles, Johnny won the 100-meter freestyle in 59 seconds, with Duke Kahanamoku and the latter's brother coming in second and third respectively. Then Johnny went on to win the 400-meter in just over five minutes, beating the previous Olympic record by 22 seconds, with Arne Borg of Sweden, who held the world record for this event, coming in second, and this despite making two bad turns. Finally, in the 800-meter relay with Johnny as anchorman, a third gold medal was won, making it three for Johnny that year. And the president of the French Republic presented a special medal to Johnny in recognition of his incomparable performance.
  Meanwhile, back at the home front, a young lady named Lorelei, Johnny's girlfriend, whom he had expected to marry on his return from the games, jumped the proverbial gun and married someone else. She later explained to him that she felt marriage with him would be unstable. All she wanted was a home, a family, and a husband who would be there. In retrospect, one can only admire the girl's foresight. But it hit Johnny hard, although his troubles with the fair sex were just beginning.
  In 1926 and 1927, Johnny took part in a Chicago marathon swim of just under three miles. He won it both times, but in the latter race, he broke Richard Howell's record by 1 minute and 51 seconds set in 1922.
  The day before the 1927 race, tragedy struck Chicago waters when an excursion boat, The Favorite, capsized during a freak squall, killing sixteen children, ten women and one man. Johnny and his brother were two of the noted swimmers who were credited with saving a number of lives that day.
  In the 1928 Olympics in Amsterdam, Johnny was standard bearer for the American contingent, an honour which he often cited as the highlight of his swimming career. In addition, he picked up two more gold medals, one for the 100-meter freestyle, and another for the 800-meter relay. Bachrach, anxious about Johnny's no-loss record, decided to keep him out of the 400-meter freestyle, and to have him play instead centre forward on the US water polo team. Ironically, the team lost on its first match against Hungary.
  Following the 1928 Olympic games, Johnny went to Japan to compete. Through a former rival, Katsuo Takaishi, he and Bachrach learned that the Japanese were planning to increase their chances by using very cold water. Bachrach had Johnny sit in a tub filled with ice water until he was accustomed to it. He subsequently won every event. Later he was invited to become head coach of the Japanese Olympic team, but he declined, partly because of his sense of patriotism, partly because he did not approve of the tactics used by the Japanese towards their swimmers. (In the following Olympiad, the Japanese won almost every mens' swimming event. The exception was Buster Crabbe, a fact which the latter often claimed as the open sesame to his acting career.)
  Johnny retired from competitive swimming in 1929, and became a beach bum, giving exhibitions and lessons in swank Florida hotels, in exchange for room and board. He also teamed up with three other Olympic athletes, Helen Meany, Martha Norelius, Pete Desjardins, as well as the Clown Prince of Diving, Stubby Kruger, to appear in the Grantland Rice-produced and highly profitable filmette, Crystal Champions, which helped put Silver Springs on the map. During that stint, Weissmuller and Kruger set off a battery of fire alarms in Miami, and it required all the savvy of promoter, Steve Hannigan, to get them out of jail.
  Shortly after, Johnny secured through Bachrach an enviable contract with BVD (Bradley, Voorhies, and Day) swimwear at $500 per week for five years. He was to tour the country giving swimming exhibitions and promoting the BVD product.
  During one of his first assignments in New York, Johnny ran into John Harkrider, Florenz Ziegfeld's theatrical designer, who was involved in creating the finale to a new Paramount film Glorifying the American Girl (1929), starring Mary Eaton. In the finale, Miss Eaton, Eve, would be held up by Adam, who would be wearing a fig leaf. Harkrider thought Johnny would be perfect for the part of Adam (the role was actually that of Adonis). Johnny did the gig, but when BVD executives got wind of the stunt, they created such a furore that Paramount agreed to drop the scene from its release prints.
  In 1930, Johnny wrote in collaboration with Clarence A. Bush Swimming the American Crawl, which he dedicated to Bill Bachrach and the Illinois Athletic Club. The book was an extension of two articles that had appeared in the Saturday Evening Post.
  In 1931, Pete Desjardins introduced Johnny to band singer Bobbe Arnst (1903 - 1980), while she was singing with Ted Lewis' band in Miami. Two weeks later on February 28, they were married in Fort Lauderdale. The new Mrs. Weissmuller decided to take her husband's career in tow and forsake her own. Their travels eventually took them to Los Angeles where they rented a modest apartment in the La Leyenda Apartment hotel on Whitely Ave.
  Johnny could not break old habits, and he immediately sought out the Hollywood Athletic Club on Sunset Blvd, where he could continue to swim.
  Cyril Hume, the screenwriter, also worked out at this club, and one day, seeing Johnny swim, he introduced himself and invited Johnny to have lunch with him over at MGM, after which he was introduced to Bernard Hyman. What Hume and Hyman had in common was an ambitious new film based on Edgar Rice Burroughs' jungle lord, Tarzan, and from all accounts they were having difficulty finding just the right man. They had already decided on Herman Brix, the Olympic shotput champion, but Brix was injured during the filming of Touchdown (31), and MGM could not afford to wait until he had healed. Hume thought Johnny was perfect for the part, but Hyman, who never looked at the sports pages of a newspaper, knew nothing of Johnny's achievements. He was impressed with his physique, but wanted to shorten his name. Fortunately, Hume was able to convince Hyman of the built-in publicity of the Weissmuller name.
  The screen test was a mere formality, and MGM was ready to offer Johnny a contract starting at $175 per week. Johnny pointed out that he was earning $500 a week for BVD. Metro upped the offer to an initial $250 with a promise of regular and substantial increments; Johnny accepted. But Metro still had to contend with BVD, who was reluctant to part with its lucrative asset, and only after MGM agreed to have all its major film stars - even Marie Dressler - pose in BVD swimwear did the company release Johnny from his contract.
  Tarzan, the Ape Man was released in 1932. A big-budgeted film, it made Johnny an overnight film sensation. Mordaunt Hall, the New York Times film critic, found the film cleverly photographed, and described the Tarzan yell as a "noise like blowing on a comb covered with paper."
  Weissmuller often claimed that he did his own stunts. This was only partially true. It was inevitable that he should do all his own swimming. But the acrobatics of the MGM films were handled by Alfred and Tony Codona, circus aerialists. When Sol Lesser took over the production of the Tarzan films, he hired stuntmen to double for Johnny, but stated that after the stunt had been photographed, Johnny often repeated it just to prove to himself that he could do it. Again, this claim was probably made for publicity purposes. Johnny Sheffield denies it, adding that the Olympic athlete never had to prove anything to anyone. And considering the investment, it is doubtful that any producer would permit his star to do anything even remotely risky.
  Johnny's dialogue was minimal, and some have suggested that this was because of his high-pitched voice, the result of a childhood accident, and his inability to learn lines. Sol Lesser added that since much of the income was derived from foreign sources, the more action and the less dialogue, the better.
  In April 1932, Johnny went to New York for the premiere, leaving Bobbe back in Hollywood. While in New York, he met Lupe Vélez, the Mexican spitfire (1910-1944). She and Gary Cooper had just split up, and on the rebound, Johnny seemed like a Cooper type. The press was instantly interested in their relationship, but both shrugged off romantic innuendoes, assuring everyone that they were merely friends.
  But by June of that year, divorce proceedings were underway. It has always been assumed that MGM engineered the divorce, paying Bobbe $10 000 in compensation. Bobbe returned to her former career and little was heard of her after that. Buck Dawson of the Swimming Hall of Fame told me, however, that back in the 1970s she helped herpetologist Ross Allen with his snake farm.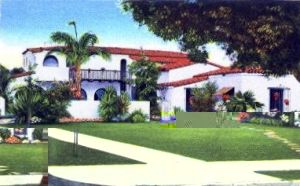 On October 8, 1933, Johnny and Lupe were secretly married in Las Vegas, Nevada, and took up residence in the bride's home in Beverly Hills, on N. Rodeo Drive.
  Almost from day one, the marriage was doomed. They were remarkably incompatible. She was a night person, he a day person. She smoked and drank; he did neither. The only thing they seemed to share was a short fuse.
  Nor was their explosive behaviour confined to their home. They had brawls in nightclubs, and on one occasion Johnny chased Lupe around an exclusive London hotel clad in night clothes, egged on by the Queen of Holland.
  Time and time again, Lupe filed for divorce, only to patch it up. Finally, in 1938, the marriage came to an end. Johnny was to pay Lupe $200 a week for three years, except when she was working. She also got their Beverly Hills home and furniture. He got their two boats: a schooner and a speedster. Six years later, the Mexican spitfire, who never remarried, committed suicide. She had apparently become pregnant by a young actor who refused to marry her. note
  Johnny's behaviour was not confined to sparring with his wife. Once in New York, while dancing at the Stork Club, he flicked a cigarette out of the hand of a young Navy lieutenant, provoking an incident in which his bodyguards assaulted the young man. And as the years passed, he was frequently hauled before the courts for impaired driving or non payment of alimony. In essence, as many have said, including Maureen O'Sullivan, Johnny was a kid who never grew up. This perhaps explains why he was ideal as Tarzan, but less so as a husband.
  In 1933, Wheaties began its campaign to have its cereal dubbed "the Breakfast of Champions." Among the first to inaugurate the endorsements were Johnny Weissmuller and Lou Gehrig.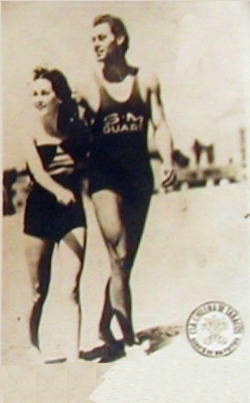 Also in that year, additional publicity was garnered through his "honorary?" appointment to the Santa Monica Lifeguard Squad. The press reported that during one of his first rounds, he saved a 12-year-old boy, who was sinking off the Municipal Pier.
  With the release of Tarzan Escapes in 1936, MGM's filming rights ended, and low-budget producer Sol Lesser entered the scene once again. He made a deal with Edgar Rice Burroughs for five pictures. Since the death of Irving Thalberg, MGM began to lose interest in the Tarzan series. Lesser promised Burroughs more upfront money and a larger share in the profits. Since he could not get Weissmuller, who was still under contract to MGM, he set his sights elsewhere. Baseball great Lou Gehrig let it be known that he was interested, and for a time, he was considered for the role. But the athlete's thighs did not seem right to Lesser, seeming "more functional than decorative," and he was rejected in favour of Glen Morris, who had won the Decathlon event in the 1936 Olympics.
 

  However, when Tarzan's Revenge (38) was released, the public made it clear that it was not willing to accept substitutes for Weissmuller, and so Lesser relinquished three of his picture rights to MGM. 
The Aquadonis of the Billy Rose's 1939 AQUACADE

1939 was an important year for Johnny. First, he and Eleanor Holm were teamed to headline Billy Rose's Aquacade at the New York World's Fair. Gertrude Ederle and Pete Desjardins, the Olympic diving champion, also appeared. Unfortunately, because of an ear infection, Johnny had to bow out. He was replaced by a no less famous swimming personality, Buster Crabbe.

 Secondly, it was in 1939 during a golf tournament at Pebble Beach that Johnny met his third wife, Beryel Scott Ginter, a San Francisco socialite. She was 21, he was 35. They were married August 20.

 
Johnny had always wanted children. With Lupe that had been impossible; she did not want any. Now it became possible. During the next four years, Beryel bore him his only offspring: John Scott, Jr., Wendy Anne, and Heidi Elizabeth.
    Finally, Tarzan Finds a Son! was released and introduced a new regular cast member, Johnny Sheffield. The eight-year old was to remain with Johnny until 1947.
  In the summer of 1940, Billy Rose hired Esther Williams to replace Eleanor Holm when he took his Aquacade to San Francisco. She was just shy of her nineteenth birthday. In her autobiography, the future MGM swimming star didn't pull any punches relating her struggles to keep the hyper-amorous Johnny at arms length. Nor were Johnny's pursuits of the opposite sex lost on his pregnant wife, Beryel Scott.
  Johnny's age and children kept him out of active service during World War II. He made up for this by helping to raise millions of dollars for the war effort. He even washed dishes at the Hollywood Canteen. And, along with other familiar sounds, American G.I.s requested Weissmuller's Tarzan yell to be broadcast on the battlefront. For two years, he taught navy recruits how to swim out from under water that was covered with flaming petroleum, a service which earned for him a special citation by the US War Finance Program in 1945. Unfortunately, one side effect of this was that he was spending less and less time at home with his family. Beryel was still so young, and was left alone so much that she sought companionship in various clubs. She became an avid bridge player, a pastime that remained with her till the end of her life. Their house was sold, and they moved into a smaller one that had no pool.
  Consequently, Johnny spent even less time at home. Beryel began to follow Lupe's habit of requesting a divorce and then cancelling it.
  In 1941, Tarzan's Secret Treasure was released. It was followed in 1942 by Tarzan's New York Adventure. This film was played down by critics, who had long become weary of the series. The Burroughs' family was also less and less impressed by the perennial offerings, the patriarch often remarking on how different the film character was from the one he had created. One of the younger members of the family, however, found this entry quite entertaining. He is the current custodian of the family vault: Danton Burroughs.
  Maureen O'Sullivan had also had enough, but was pleased at least to be able to sport some fashionable clothes for a change. Tarzan's New York Adventure was also the last film that Johnny did for MGM; Sol Lesser took over the filming of Tarzan, also acquiring Big John and Little John. However, nothing could persuade O'Sullivan to join them at RKO. She was glad that it was over.
  In 1943, Tarzan Triumphs was released. It ranks as one of the best of the RKO Tarzan features, especially considering its limited budget, and it made ERB richer by a quarter of a million dollars. However, unable to secure O'Sullivan's services, Lesser omitted Jane from this film, and showcased a beautiful Frances Gifford as the princess of a lost civilization. Because it dealt with the Nazi menace, emotions ran high with all those who saw it, and patrons literally cheered when Tarzan uttered the phrase "Now Tarzan make war!"
  The film was so successful that another with a similar theme was released the same year, an unprecedented move. Unfortunately, the second film, Tarzan's Desert Mystery, fared less well, not surprising as the film was rushed, and was too uneven. It spent less time on Johnny, and too much time on Nancy Kelly. It seemed that it was time to reintroduce Jane.
  That same year, Johnny did a cameo with Franklin Pangborn in Sol Lessor's Stage Door Canteen, another highly successful war-effort film.

  Then in 1945 Tarzan and the Amazons hit the screen and featured lovely Brenda Joyce in the role of Tarzan's jungle mate. She was an excellent choice, although she did not exhibit O'Sullivan's spunkiness. The film also introduced a new Cheta, the previous one having died from pneumonia as a result of an accident at Malibu.
  Johnny, meanwhile, was becoming restless. He yearned to try his hand at other types of films. He had tried to improve his financial lot with Lesser, but never seemed to get anywhere. Pine-Thomas Productions offered him a change: three pictures, two with a war theme, and a western. But since the war was about to end, the war films were scrapped, and the screenplay for the western was rejected. The contract stood, however, and the result was Swamp Fire, a bottom-of-the-barrel melodrama, in which Johnny played a bayou boat captain, for which he was paid $75 000.
  Despite the fact that he swam a little, even battled an alligator, the film was a dud. So Johnny shed 35 pounds and did Tarzan and the Leopard Woman and Tarzan and the Huntress for Sol Lesser.
  In 1948 Johnny's career as Tarzan came to an end with Tarzan and the Mermaids. It was filmed in and around Acapulco, Mexico. Lesser, wanting to produce a quality Tarzan picture, hired Dmitri Tiomkin to do the musical score, and Johnny was set to do more swimming than he usually did, but it was not well received. By this time Johnny was becoming more insistent on a better financial deal, and so Lesser felt that the time had come for them to part.
  Lesser went on to produce nine more Tarzan films with Lex Barker and Gordon Scott, before selling his rights to Sy Weintraub for more than three and a half million dollars.
  When Sam Katzman, Columbia's wunderkind, who had put the studio back in the black with his "B" flicks, got wind of Weissmuller's discontent, he approached him to play Jungle Jim, one of the many comic strip properties he had.
  Together with William Berke, who seemed lately to specialize in jungle films, Katzman came up with a deal for Johnny that the latter could not resist. He would be given a say in production, get residuals and a percentage, wear clothes and speak normally.
  Moreover, he would work for only a part of the year. This suited Johnny because he wanted more time to spend with his new wife, Allene Gates, a young golfer, who had been infatuated with him for years. After his wife Beryel Scott finally granted him a divorce, he immediately married Gates. So when Johnny parted company with Lesser, he moved over to Columbia. note
  Columbia revamped one of its sound stages, and got to work making use of some of its lesser female luminaries. Katzman had decided that his jungle dwellers would be Latin types, rather than blacks, which explains his selection of women such as Lita Baron, Elena Verdugo and Sherry Moreland. Rick Vallin and Paul Marion became fixtures as well. The main and end title music were composed by Joseph Dubin, and selected strains from a number of original music scores were interwoven with the help of Mischa Bakaleinikoff, Columbia's music director.
  There was one hitch to this deal: the filming of the series depended on the success of the initial entry. And although it was far from the best, Jungle Jim paid for itself handsomely, and assured Johnny of an income for the next seven years.
  In 1950, prior to the release of Captive Girl, an entry which featured not one, but three swimmers (Weissmuller, Crabbe and a newcomer Anita Lhoest), a media event helped maintain Johnny's hold on his public: the sportscasters and sportswriters of America voted him the best swimmer of the half century. He received 132 votes, 112 more than his nearest rival, and 30 more than all the candidates combined. His name was mentioned along with other winners such as Jim Thorpe, Babe Ruth, Jack Dempsey and Jessie Owens.
   To take advantage of this publicity, Johnny went on tour, and among other things, visited his adopted birthplace Windber, Pennsylvania. The town went all out for him, erecting permanent signs at strategic locations proudly claiming him as a native son.
  And on March 8, a stag party was given in his honour at the California Country club, sponsored by the Helms Athletic Foundation. Leo Carrillo was the master of ceremonies, and among the guests were Stubby Kruger, Tom Harmon, Forrest Tucker, Buster Crabbe, Johnny's financial manager, Bo Roos, and Nat Pendleton.
  Johnny's film career came to an end in 1956 following a short-lived television series.
  Unfortunately, his finances were not very healthy. Johnny had never bothered to keep track of his money, having a financial manager do that for him. From all accounts, Johnny eventually felt that his manager had ruined him, because he had virtually no money, only a few assets, and these were soon to go.
  This change in status had its effect on his young bride, and she too went, partly because of the teasing Johnny took for having married a "teenager," partly because he was losing his prominence. They were divorced in 1962. She remarried and now lives in Southern California.
   That same year Johnny's daughter Heidi died in an automobile accident while driving her husband back to a California naval base. She was pregnant at the time.
  In 1963, Johnny married for the fifth time. His latest was Maria Brock Mandell Bauman, 42, who had lost two husbands in Germany to World War II deaths and one in the USA to divorce. Because of their past and their age, this would be the last marriage for both.
  The following year Johnny's mother died. His brother Pete had been living with her in Los Angeles until then. He too would die a few years later from a heart ailment and too much drinking.
  Johnny tried several ways of earning money. He tried to begin a television series on swimming, he did personal appearances. He even tried to coax his former celluloid son, Johnny Sheffield, into joining him, but this did not pan out either.
  In 1965 Buck Dawson was in Fort Lauderdale, Florida, working on plans for the International Swimming Hall of Fame. He contacted Johnny, who was living in Palm Beach, to ask his support in promoting it. Johnny agreed, in exchange for living accommodations.
  Although he was given an office with his star and name on the door, he never used it, and it became more of a storeroom than anything. But Johnny was very helpful in promoting the new Hall of Fame, and it was thanks to his name that numerous sports, film and political personalities visited, and supported the venture. And when it opened officially, Johnny became its founding Chairman of the Board. The actual Hall was not built until 1968.
  In 1967, Johnny had writer and actress, Narda Onyx, pen his biography, which was published by her husband's Vion Press. At about this time, Weissmuller was being sued by the widow of public relations man Beverly Barnett for past wages she claimed were owing to her late husband's estate. She won, and the royalties from Johnny's book were to be turned over to her as compensation. So Weissmuller is said to have taken the book off the market and given the remaining copies to Buck Dawson and the Swimming Hall of Fame.
  Early in 1969, an idea for franchising that Johnny had been musing about for several years began to take shape. He named it Jungle Hut, Inc. He hoped to branch out into four areas: the Jungle Hut, limited menu, Restaurants, Johnny Weissmuller's American Natural Food Stores, Johnny Weissmuller's Safari Hut Gift Shops and Johnny Weissmuller's Ungawa Club Lounges. But aside from a few Health Food Stores in cities like Los Angeles, St. Louis and Chicago, the Corporation never really got off the ground.
  He considered another venture, Tropical Wonderland, replete with snake farm, petting zoo, and a "Loin Cloth" clothes store, in Titusville, Florida, but it too was never to be.
 

In 1969, Johnny and Maureen O'Sullivan reunited for a brief cameo in The Phynx. And Johnny would have one more cameo in the Paramount film spoof, Won Ton Ton, the Dog That Saved Hollywood (76), before leaving the screen forever.

 

 

Movie mogul Art Carney fires stagehand Johnny for no legitimate reason, while Phil Silvers looks on.

 

Then, in 1970, Johnny attended the British Commonwealth Games  in Jamaica where he was presented to Queen Elizabeth, the latter telling him how much she had enjoyed his films as a youngster.

 

 

 
  In 1971 he received the "American Patriot Award."
  In 1972, prior to the Munich Olympics, Johnny, along with three other former Olympians, was presented a set of sterling silver commemorative medals. Designed by the noted sculptor, Seymour Chaste for the Franklin mint, the medals were put on sale by Coca-Cola USA through its bottlers and the proceeds were donated to the United States Olympic committee.
 By 1973, Johnny was working as a greeter in Caesar's Palace, a post he had gained through the efforts of his son-in-law, Ed Gallagher, stepdaughter Lisa's husband. It was here that Johnny fractured his hip and this marked the beginning of a series of health problems.
  In 1974 he was declared the "King of Swimming," undefeated, by the International Palace of Sports.
  In 1976, he flew to Buenos Aires to help raise money for a children's hospital. He received no compensation for this effort. This was also the last year Johnny made any personal appearance.
  In 1977, while travelling to Los Angeles, Johnny suffered a cerebral stroke and was hospitalized at the Motion Picture and Television Home for Actors. There seemed to be some progress, but at times, he would behave strangely, giving his Tarzan yell at all hours of the morning.
  In 1979, The director of the home sought conservatorship, but this was granted to Johnny's wife, who, with some financial assistance from his former wife, Beryel Scott, then had him moved to Acapulco. Later that year, he was taken to the hospital for a tracheotomy as a result of respiratory problems, and was diagnosed with a chronic brain deterioration syndrome.
  In 1983 he was too ill to attend the induction proceedings of the Olympic Hall of Fame, and his stepdaughter Lisa represented him.
  Johnny's health saw moments of improvement, but the inevitable happened on January 20, 1984, five months before his 80th birthday. Death came quietly in his sleep. Officially the cause of death was listed as a pulmonary œdema, or blockage in the lungs.
  And so almost sixty years after his Olympic triumphs in Paris, the aquatic lord of the jungle was laid to rest in a simple cemetery plot of the Panteón Valle de la Luz (Valley of the Light). Among the letters of condolences was a telegram from the President of the United States, Ronald Reagan. John Gavin, actor and American Ambassador to Mexico, represented his country officially, and Linda Christian, the actress who played opposite him in Tarzan and the Mermaids (48), and José Estrada, one of Johnny's stunt doubles in the film, were the only personalities who were present.
  The impact of Johnny's passing, as an international celebrity, may be gauged by the fact that mainland China's state-run television reported it. Their nightly news devoted nearly four minutes to Weissmuller showing clips of harrowing scenes from his Tarzan films.
  Many stories have been recounted of incidents befalling the Olympic athlete, some of them apocryphal, others true. And it becomes a tour de force to distinguish fact from fiction. One of my favourites tells of a celebrity golf tournament held in Havana, Cuba in 1959, during which the car in which he was driving was ambushed by Cuban rebels. According to the story, Weissmuller let out his Tarzan yell, and the rebel soldiers, after a stunned silence, recognized the movie hero, and gave him and his party safe conduct to the golf course.
  For several years after his death, members of Johnny's family attempted to film his life. To date nothing has come of their efforts, which seems a shame. If anyone had a life that would make an interesting biopic, it was Johnny Weissmuller.
  And for all his faults, there were many instances of his generosity. In 1966, Weissmuller helped run two CBS international meets for television, unpaid. And Johnny Sheffield remembers especially that his cine-dad refused to do lucrative tobacco or alcohol ads, because he feared that the screen image he represented to the youth of America would be tarnished. note
  When I think back on Johnny, I like to remember the hero he portrayed on the screen, and like many of the heroes of that era, he helped mould my character and that of countless others. No man could wish for a better legacy.