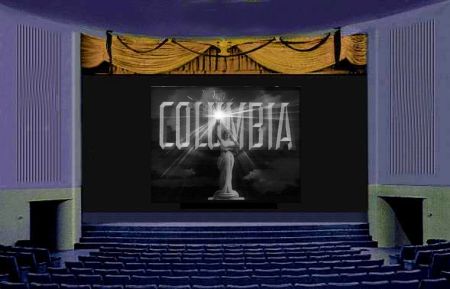 The COLUMBIA Films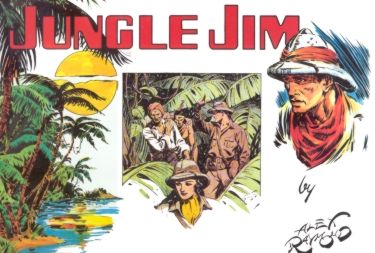 In 1934, Alex Raymond, the gifted comic strip artist was at work on two strips: Flash Gordon and Jungle Jim, the latter as a top-of-the-page accompaniment.
"Jungle" Jim Bradley is an expatriate American, wild animal hunter and explorer, whose adventures take him to exotic locales, such as the jungles of Africa and Asia. He has a Hindu servant named Kolu, an on-again, off-again relationship with Shanghai Lil, supposedly inspired by Shanghai Lily, a character from the film Shanghai Express (32), featuring Marlene Dietrich as a mysterious and fascinating adventuress.
Jim meets with shifty traders, mad despots, unscrupulous international agitators, and pirates.
Flash Gordon and Jungle Jim debuted in January 7, 1924 and spawned a number of other incarnations: comic books, a Big Little Book, a radio programme, a serial, motion pictures and a TV series.
The radio programme The Amazing Interplanetary Adventures of Flash Gordon ended after six months, whereupon Jungle Jim aired November 2, 1935. It featured Matt Crowley as the intrepid adventurer with Juano Hernandez playing his faithful Hindu servant Kolu. Vicki Vola played Shanghai Lil and each episode ran fifteen minutes. A number of the episodes were based directly on the comic strip, such as The Ghost of the Java Sea, which boasted the added distinction of a new, but temporary Jungle Jim, in the person of famed actor, Gerald Mohr. Serial fans will remember him as the voice of the Scorpion in the Republic serial, The Adventures of Captain Marvel (1941).
The radio programme proved very successful, and after its initial run, which included the war years, the show went into syndication until the early 50s. Most, if not all the shows, are available on audiocassettes.
In 1936, Universal Pictures, who had turned Flash Gordon into a popular serial, with Buster Crabbe in the title role, decided to do the same with Jungle Jim. So between 1936 and 1937, a twelve episode serial featuring Grant Withers as Jungle Jim. The result of this venture was the reverse of the radio experience. It was Flash Gordon that took centre stage, and its success prompted the studio to create two additional serials involving the space hero. Jungle Jim, on the other hand, did not fare so well, and eventually disappeared. A nitrate negative of the serial was finally located in the Universal vaults, thanks partly to Fred Shay, and is now available on VHS and DVD from VCI Entertainment.
In February 1948, "Jungle" Sam Katzman, the canny producer who had helped put Columbia Studios back in the black, met with Johnny Weissmuller and film director William Berke to discuss a possible revival of the Jungle Jim character with Weissmuller in the title role. The ex-Olympic athlete had completed Tarzan and the Mermaids for Sol Lesser the preceding September and was pressing the Tarzan producer for improved financial benefits.
Katzman and Berke were certain it would work. Weissmuller still had his following, and Katzman promised him some special considerations. He would speak like a normal adult, wear clothes, get a percentage of the gross, work only a couple of months each year, and would have a say in production. The only stipulation was that the series offer would depend on the success of the initial entry.
Weissmuller probably used this offer as leverage to influence Lesser and gain improved benefits, but Lesser decided that perhaps the time was ripe for a new and younger Tarzan, and since Weissmuller had another offer, there was no reason to hold him to his contract. So on May 2, 1948, the press announced the official dissolution of Weissmuller's contract and the name of his successor, Lex Barker, a recent RKO contract player. The William Morris Agency again handled the deal for Weissmuller.
There was one stipulation, however. Weissmuller was finding it too easy to put on the pounds, and so to keep him on track, Katzman added this proviso: he was not to weigh more than 190 lbs. So it became regular procedure at the start of shooting to have the star weighed. And thanks to a regimen devised by stuntman and friend Paul Stader, the jungle king always managed to weigh in at 189 lbs.
Sam Katzman was born in July 1901 in New York City. At the age of thirteen he became a prop boy for Fox, at Fort Lee, New Jersey. Doing other jobs for the company, he soon found himself at the Fox Studios in Hollywood. He later worked for First National and Cosmopolitan, before producing his first film in 1933, Ship of Wanted Men. Following that, he worked for Monogram producing the East Side Kids vehicles, and then for the Producers Releasing Corporation, where he worked on some westerns. During the Second World War, he moved over to Columbia, where he remained until the advent of television. He died on August 4, 1973.
One of Katzman's principal responsibilities at Columbia was the serial. The budgets for these serials seldom exceeded $100,000 (Spencer G. Bennet mentions $8,000 per episode), including purchase of literary rights of the comic strip characters, with Katzman's salary charged to production overhead and a fifty-fifty split on profits after costs were recouped. His main activity, other than monitoring costs, was screening rushes. Occasionally, he fired people.
Columbia gave him the use of five sound stages at its subsidiary studio on Gower Street. According to Katzman, he didn't get stories; he got titles and had stories written about them or to fit them. For instance, he had this title Flame of Calcutta. So he had a script written up, and the film was made.
Katzman made use of everything. In Mark of the Gorilla and Captive Girl, a tiger made an appearance, an oversight that must have been pointed out to Katzman by many fans. But he simply turned a mistake into a plot, and voilą ..., Voodoo Tiger in 1952.
While Katzman was at Columbia, his brother Dave was his casting director, and Dave's son Leonard started as an assistant director. Katzman's own son Jerry also became a producer, and later president of the William Morris Agency. Besides Jerry, Katzman had a daughter and three sisters.
While other producers of the day worked long and hard to create A-budget features, Katzman tried to produce low-cost programmers with built-in publicity. He was Hollywood's king of the exploitation film and produced hundreds of titles which he claimed never lost money. His formula was simple: take advantage of the latest fad, before the public tired of it. He did this with rock n' roll in the mid fifties, and with the twist in the early sixties. A running gag had Katzman asking co-workers what they thought of his latest flick, and the ambiguous reply was always, "Well, Sam, you've done it again." But as Katzman said in an interview, "Lord knows I'll never make an Academy Award, but then I'm just as happy to get my achievement plaque from the bank every year."
When Lucille Ball found herself trying to end her contract with Harry Cohn at Columbia, after making The Fuller Brush Girl (50), she outfoxed him by agreeing to do a typical Katzman project titled The Magic Carpet (51), opposite handsome John Agar.
Most actors of quality would have said no, and Cohn had indeed expected her to refuse to do the picture, resulting in the cancellation of her contract, meaning he wouldn't have to pay her off . So not only did she do the picture in scarcely more than a week, but she was paid $85 000 for it, according to the terms of her contract, a hefty sum which ate heavily into Sam Katzman's budget.
The Jungle Jim films were formula fodder. They cost about $300 000 to produce, and grossed close to a million dollars. In fact, they were Katzman's most profitable fare. In the first three episodes, Weissmuller's animal companions were a pooch named Skipper and a crow named Caw-caw, played by Jimmy the Raven and trained by Curly Twiford. In Mark of the Gorilla, a chimp named Tamba made its first appearance, but only began to be viewed as a sidekick in Captive Girl. This was also the last film in which the terrier and the crow appeared.
Tamba was unfortunately killed during a fire at the World Jungle Compound. He was replaced by a chimp named Peggy, who kept the name Tamba and who also worked at Universal in Bonzo Goes to College, She earned for her owners about $25 000 a year. By 1952, the chimp was becoming a problem, beginning to bite people. In 1954, Peggy became pregnant and was replaced by another chimp, stage-named Kimba, who remained for the remainder of the series. When the television series was made, Tamba returned, but was played by Neal, who also appeared in shows like Rin Tin Tin and Circus Boy.
To double Weissmuller for fighting and diving scenes, long-time stuntman Paul Stader lent his professional hand, and wild animal trainer Melvin Koontz stepped in to fight lions, leopards and panthers when the real animals were needed. Tamba's trainer at the World Jungle Compound was Hank Craig, Peggy's Henry Tyndall.
From L to R, Katzman, Jeanne Dean, Spencer G. Bennet
on the set of "Voodoo Tiger"