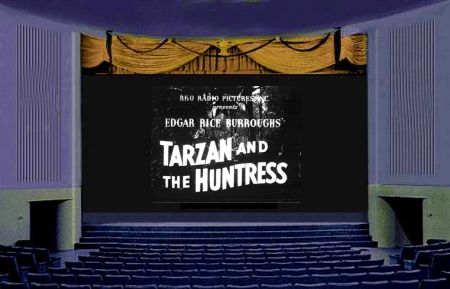 Cast and Credits
Tarzan
Jane
Boy
Tanya Rawlins
Carl Marley
Paul Weir
Smithers
King Farrod
Prince Suli
Prince Ozira
Monak
Cheta
Gun bearers
King Farrod's Aide

Johnny Weissmuller
Brenda Joyce
Johnny Sheffield
Patricia Morison
John Warburton
Barton MacLane
Wallace Scott
Charles Trowbridge
Maurice Tauzin
Ted Hecht
Mickey Simpson
Herself
Jerry Groves, George Magrill
Georges Renavent?

 

Director and Associate Producer
Producer
Assistant Director
Story and Screenplay
Additional Dialogue
Camera
Music Composer
Art Direction
Sound Technician
Film Editor
Associate Film Editor
Makeup Artist
Production Design
Wardrobe
Production Manager
Production Assistant

 

Kurt Neumann
Sol Lesser
Bert Briskin
Jerry Gruskin, Rowland Leigh
Leslie Charteris
Archie Stout, A.S.C.
Paul Sawtell
McClure Capps
Frank McWhorter
Merrill White
John Sheets
Irving Berns
Phil Paradise
Harold Clandening
Clem Beauchamp
Bob Larson
Running Time: 72 minutes
Working Title: Tarzan's Dangerous Game
Final Shooting Script: August 29, 1946
Shooting Begins: September 11, 1946
Copyright Date: March 25, 1947; Renewed January 13, 1975
Release Date: April 5, 1947
First showing in Canada: July 31, 1947
Tarzan et la chasseresse [Fr]
Tarzan wird gejagt, Tarzan und die Jägerin [Gr]
Tarzan e i cacciatori bianchi [It]
Tarzan e a caçadora [Pg]
Tarzan y la cazadora [Sp]
Synopsis
A zoological expedition arranged by noted adventurer, Tanya Rawlins, and guided by unscrupulous hunter, Paul Weir, form a pact with Ozira, nephew of king Farrod, to trap animals to restock zoos. To ensure success, Ozira arranges for the "accidental" death of the king and the latter's son, Suli, leaving him the throne.
When Tarzan learns of the indiscriminate trapping of his jungle friends, he calls them to his side of the river and warns the hunters to stay on theirs. When they cross the river, the jungle king confiscates their weapons under cover of darkness and hides them behind a waterfall. But Cheta is duped into disclosing the hidden arsenal.
Meanwhile, Tarzan and Boy find prince Suli and Tarzan is about to return the boy to his people, when Ozira appears on the scene with palace guards. Tarzan has had enough and summons his pachyderms to rout the intruders. All of the villains are speedily dispatched, except Tanya and Smithers, who escape in the woman's plane.
And Cheta, who has been after the lady's powder puff throughout the film, finally gets it.
Commentary
Early in September, the script for Tarzan and the Huntress was submitted to the Hays Office for approval, and after the usual proscriptions and suggestions, Barney Briskin went ahead and signed Ewing Scott to direct the film with Kurt Neumann slated to act as Associate Producer. This was announced in the Hollywood Reporter September 11, 1946, and the film was to begin shooting five days later. Scott declined to direct the film, citing inadequate preparation time. So Neumann was given directorial responsibility once again.
The script had been written by Jerry Gruskin and Rowland Leigh, and although the screen failed to note it, the famous English mystery writer Leslie Charteris was at the studio working on a script for a film involving his most famous creation The Saint, and supplied input on the Tarzan feature. A document at AMPAS bears a notation acknowledging his contribution.
There's an intriguing possibility that Martha O'Driscoll was Sol Lesser's first choice to play the part of Tanya. In the pressbook, an insert was placed stating that Miss O'Driscoll was not in this film. Yet, in several of the posters, notably the title lobby card, the insert and one of the half sheets, a blonde is portrayed as the huntress, rather than the dark-haired Miss Morison.
A further hint to this is to be found in the fact that in 1947, Miss O'Driscoll retired from the screen to marry Chicago businessman, Arthur Appleton. This was the year Tarzan and the Huntress was released She had tried breaking her contract with Universal, and the studio had sued and won. Perhaps to punish her, it put her in unpalatable lower bill fare, and may have been willing to lend her to Lesser for this film. This is all speculation. A brief telephone conversation with Mr. Appleton did not shed any light on the last year of his late wife in Hollywood.
Regardless, Patricia Morison was ultimately engaged to play the female title role. Miss Morison was a first-rate actress, shamefully misused by Hollywood. Born in 1914, the attractive brunette had been under contract to Paramount in the late 30s to be groomed along with other hopefuls like Bill Henry, Robert Preston, and Joe Allen, Jr., but even though she proved her worth on more than one occasion, she found herself in minor second lead roles. Paramount continued to miscast her, finally relegating her to the role of the heavy. To end her association with the studio, she "over-ate her way out of the contract."
Then she free-lanced, appearing in films for a variety of studios like MGM, Fox, RKO, Monogram and Columbia. One minor film that should have garnered her more attention was in Universal's Dressed to Kill (46), in which she played a worthy adversary to Sherlock Holmes. Her disguise as the cockney charwoman was flawless. But the roles were getting worse, rather than better, as in the abysmal Queen of the Amazons (47), where she played the romantic lead opposite Robert Lowery. But always the trooper, she made the best of the roles, and often stood out despite them.
Blessed with a marvellous singing voice, Miss Morison eventually transferred her energies to Broadway, and there found her true niche. In 1948, she auditioned for Cole Porter and won the title role in Kiss Me Kate. In 1954, she appeared opposite Yul Brynner in The King and I, in 1965 she co-starred with Alfred Drake in Kismet, and in 1973, the ageless Miss Morison still managed to wow her audience in a west coast production of Pal Joey. Despite being courted by Cesar Romero, John Vivyan, and allegedly a European nobleman, the articulate Patricia Morison never married. Yet she still manages to pursue her varied interests, including that of a professional painter, and has even turned up in one or more movie conventions.
The role of Tanya Rawlins did not offer the versatile actress much of a challenge. The character is routinely superficial, as are her lines, and although she instigates the presence of the trappers and the subsequent problems, she is basically a law-abiding average person, although she is too clever for her own good when she tricks Cheta into revealing the location of the stolen firearms. This gives Weir, the trail boss, the opportunity to threaten Tarzan or anyone who would try to stop him from trapping all the animals he wants. Nor is she in on the conspiracy to have the king killed. This is made absolutely clear in the original script, but was omitted, probably because it was deemed unnecessary as her behaviour is never really villainous, just misguided. Just as the elephant stampede nears the hunters' camp, there is a conversation in which Tanya learns for the first time that the king's death was murder.
Marley. I guess you're right. We helped him [Ozira] get into power.
Smithers. Wot 'appens, if the natives find out?
Weir. Shut up, Smithers.
Tanya. What is this all about?
Weir. Why don't you quit playing dumb?
Tanya. Tell me, Carl.
Marley. I swear I had nothing to do with it.
  [as elephants are getting nearer]
Weir. We're all in this together.
Tanya. Then there were no killer lions... it was no accident.
But Tanya does have courage. Their guns gone, the hunters send two of the natives back to Touranga for help. One is killed almost immediately by a lion. They build fires and remain inside the camp, but Tanya ventures out herself, and when she is threatened by jungle felines, Tarzan intercedes. The scene had been written to give her more pluck. She was supposed to have a whip, which she adroitly used when backed onto the edge of a ravine, before being rescued by Tarzan. Again this scene was either cut or not filmed. Some of the pressbook ads showed her wielding the whip.
Reviews


The Hollywood Reporter

 Again Cheta proves to be the best actor in a "Tarzan" picture. This remarkable chimp has plenty of competition from other animals, for in "Tarzan and the Huntress" producer Sol Lesser gives the jungle lord a problem of defending the wild beasts in his domain. It amounts to returning Tarzan to the realm in which his creator Edgar Rice Burroughs, first imagined him that is, before the films made 22 pictures concerning his jungle exploits.
"The Huntress" is Tarzan's 23rd screen adventure and the eleventh time he has been played by Johnny Weissmuller. Attempts to vary the annual releases have resulted in some pretty fanciful tales, but here is the type of entertainment preferred by the Tarzan following. It mixes deeds of derring-do with elephants, lions, monkeys, buffalo, and even kinkajous in fact all of the wild life to be found in Africa. Top Tarzan grosses are to be expected everywhere.
Jerry Gruskin and Rowland Leigh wrote the original screenplay, which is directed by Kurt Neumann who rates an additional credit of associate producer. The shortage of animals in zoos following World War II has sent several bands of Bring-'Em-Back-Alive hunters to Africa. One such band is led by pretty trainer Tanya. With her are an unscrupulous financier and a brutal trail boss. These two talk her out of observing permission by King Farrod to trap only two of each species of animals. They plot with a greedy prince to violate the agreement. But they reckoning without the power of Tarzan ruling his domain.
Weissmuller looks better as the jungle lord than he has in the last couple of appearances. Brenda Joyce is now playing Jane, and Johnny Sheffield as Boy has gotten to be a big boy. It is no longer possible for him to do cute things. That puts the burden of comedy on Cheta, and the chimp is more than able. There is a swell running gag about Cheta's desire to gain possession of Tanya's lipstick, and several hilarious contributing moments.
Patricia Morison is excellent as Tanya. Barton MacLane appears as her white hunter trail boss, and John Warburton is her financial partner in the venture. Wallace Scott has the bit of the Britisher, Smithers. Charles Trowbridge shows to advantage as King Farrod, but he is the only one of the natives who is acceptable.
Archie Stout takes splendid care of the camera requirements of Lesser's production. Phil Paradise did the art direction. Paul Sawtell's music is outstanding as is Merrill White's smooth editing. Don't overlook the animal footage in selling the show.

Motion Picture Daily

A lively jungle story, some first-rate wild animal stock shots, and sprightly talkativeness on the part of the usually quiet Tarzan (Johnny Weissmuller), make this latest of the RKO Radio series... a far-better-than- average piece of Tarzan merchandise.

The Toronto Star
 
"Tarzan and the Huntress," which opened yesterday at the Victoria and Capitol theatres, is completely characteristic of all Tarzan pictures. That is to say its plot is as outlandishly foolish as its photography of animals is excellent. In the current adventure, Tarzan, in the person of the corpulent Johnny Weissmuller, Jane (Brenda Joyce) and Boy (Johnny Sheffield) are fighting against a band of hunters led by Patricia Morison, who have invaded the jungle in search of wild animals for European zoos. What preposterous shenanigans are then perpetrated can best be left to the imagination, and the wildest supposition is probably not too wild at that.

Enough to say that the youngsters will love it, particularly the antics of Cheta, the chimp, who, as usual, completely dominates the film, and makes monkeys out of the humans. She is involved in one of the most peculiar fadeouts ever tacked on to a film a scene in which she descends by parachute from an airplane, applying lipstick as she comes.



Variety

Latest of the "Tarzan" jungle pictures is one of the best and strongest of Sol Lesser's series featuring Edgar Rice Burroughs' character and should clock up better than average grosses. Film carries more movement and sincerity than majority in series, and boasts largest number of wild animals and animal sequences to date, all adding up to top entertainment. Lesser and Kurt Neumann, who handled dual chore of associate producer-director, evinced shrewd showmanship in building up story and packed production with values which will sock popular audiences. Cast headed by Johnny Weissmuller, Brenda Joyce and Johnny Sheffield, in their customary roles are as usual okay.

Plot revolves around party of Americans who arrive in Tarzan's part of Africa, bent on capturing wild animals to sell to zoos of the world, and ape man's efforts to rout them and save his four-legged friends of the jungle. Intervening action permits plenty of excitement, with a thrilling climax of an elephant stampede.


Script by Jerry Gruskin and Rowland Leigh, as handled by Neumann in his direction, puts over theme in a suspenseful manner and early catches imagination of spectator. Film is liberally sprinkled with all types of African wild life, and these contribute heavily to entertainment values of picture as a whole. Animal sequences are splendidly atmospheric.

Weissmuller offers his usual convincing characterization, ably supported by Miss Joyce and Johnny Sheffield, as Boy, latter now almost as large as his "father" in series. Patricia Morison, as femme hunter, scores nicely. Barton MacLane is up to his usual villainy and John Warburton does well as Miss Morison's partner on the safari. Others in the cast rank highly.

Apart from the elephant charge, most entertaining portion of film is antics of Cheta, the chimp, who is allotted more footage than usual, all of it welcome. Monk gets number of belly laughs, as do her adopted family of chimps, and otherwise performs for delight of the audience.

Technical departments generally are of high order. Archie Stout handled his cameras effectively, and Paul Sawtell's musical score contributes more than a little to film's atmosphere. Phil Paradise acted as production designer and McClure Capps as art director, both rating highly for their work.