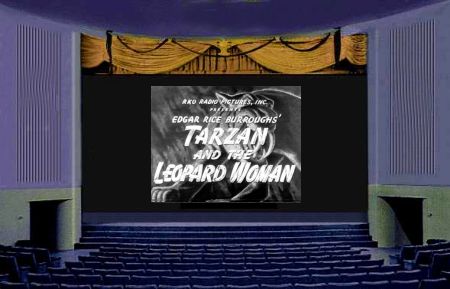 Cast and Credits
Tarzan
Jane
Boy
Lea
Dr. Ameer Lazar
Kimba
Commissioner
Mongo
Corporal
Miss Weatherby
Tongolo
Snake Charmer
Ivory Merchant
Cloth Merchant
Caravaneer*
Soldier
Zambesi Maidens

Leopard Men

 


Leopard Boys

Johnny Weissmuller
Brenda Joyce
Johnny Sheffield
(Burnu) Acquanetta
Edgar Barrier
Tommy Cook
Dennis Hoey
Anthony Caruso
George J. Lewis
Doris Lloyd
King Kong Kashay
Louis Mercier
Georges Renavent
Marek Windheim
Robert Barron
John Shay
Iris Flores, Lillian Molieri,  Helen Gerald, Kay Solinas

Miola Kalili, Stubby Kruger,  Paul Stader, Peter Weissmuller,
Bill Lewis, Charlie McBride, Don Malmberg, Robert Strong, Ken Terrell, John Roth, Cy Schindell, Charles Regan

Bobby Samrich, Bobby Frasco, Ray Dolciame

 

Producer
Associate Producer
Story and Screenplay
Additional Dialogue
Photography
Production Design
Art Director
Dance Director
Sound Technician
Makeup Artist
Wardrobe
Assistant Director
Film Editor
Unit Manager
Music Composer
Production Assistant

 

Sol Lesser
Kurt Neumann
Carroll Young
Rowland Leigh
Karl Struss, ASC
Phil Paradise
Lewis Creber
Lester Horton
John R. Carter
Irving Berns
Robert Martien
Scott R. Beal
Robert O. Crandall
Clem Beauchamp
Paul Sawtell
Bob Larson
* Caravaneer - the term is apparently the author's invention, since the dictionary gives
  only caravanner.
Running Time: 72 minutes
  Final shooting script: May 31, 1945
  Shooting begins: July 26, 1945
  Copyright Date: December 31, 1945; Renewed July 9, 1973
  Release Date: February 1946
  First showing in Canada: July 4, 1946
Original title: Tarzan and the Leopard Men
  Tarzan et la femme léopard [Fr]
  Tarzan und das Leopardenweib [Gr]
  Tarzan e la donna leopardo [It]
  Tarzan e a mulher leopardo [Pg]
  Tarzán y la mujer leopardo [Sp]
Synopsis
When a caravan is wiped out, Tarzan, unconvinced that marauding leopards are responsible, decides to investigate on his own.
Lea, high priestess of a vicious leopard cult, responsible for the massacre, allows her younger brother Kimba to spy on Tarzan, but the bloodthirsty youngster has other plans. He wants to get Jane's heart, a deed that would make him a warrior in the eyes of the cult.
Dr. Lazar, a half-caste medical official in league with Lea, brings her news that a new caravan bearing four maidens destined as teachers is on its way to Bagandi. Warriors are sent to intercept the caravan, destroy it, and bring the maidens to the temple for ritual sacrifice.
Tarzan attempts to rescue the maidens, but is captured along with them. Meanwhile, warriors, sent to retrieve Kimba, also capture Jane and boy.
In the temple, all the victims are condemned to death, but before the sentence can be carried out, Cheta helps free Tarzan and the others from their bonds. A distraction caused by Lazar and Kimba allows Tarzan to topple pillars bringing the temple down on the members of the leopard cult, killing all except Lazar and Kimba. But their mutual hatred ends in each other's death.
Then the Commissioner arrives to learn that Tarzan's suspicions were justified.
Commentary
On January 4, 1945, Sol Lesser announced that he had secured the rights to film Tarzan for the next twenty years. In the same announcement, he gave the next title as Tarzan and the Intruder, to be directed and produced by Kurt Neumann. Two weeks later, Lesser announced the title Tarzan and the Leopard Men, which was to be filmed following Tarzan and the Intruder with the same producer- director.
Nothing came of Tarzan and the Intruder, and Tarzan and the Leopard Men began production on July 26. Filming took 51 days and was budgeted at $750,000, although Bank of America archival records indicate that Lesser borrowed $950 000 to make the film. By September 21, the title had been changed to Tarzan and the Leopard Woman. It was copyrighted on the last day of the year, and released two months later.
Writing for the Hollywood Reporter February. 8, 1946, Jack Grant was impressed and even recommended Cheta for an Oscar.
On April 30, the same magazine stated: "The surprise of the week was Tarzan and the Leopard Woman, which zoomed to 30% over par for straight film bills, in a big week at the Circle. This without benefit of support from critics."
However, the article did not take into consideration the massive publicity campaign with which Lesser had inoculated the film. It was unlike any campaign for a Tarzan film to date. Some sixty magazines sported ads, including Look and Liberty. The success of the campaign may be judged by the attendance at the Globe Theatre in New York, as "Broadway crowds throng premiere engagement in sensational record-breaking run!" Undoubtedly, the change of title and the splashing of seductive photos of Tarzan's female nemesis had much to do with the results.
Once again the Garden of Allah sets were used, this time as Zambesi, and the Arboretum provided much of the scenery for the aquatic moments, the remaining jungle sequences occurring in RKO's own jungle and the cave sequences and tree-house closeups on sound stages.
The shower bath is described in the original script as "an ingenious contraption consisting of four bamboo stilts supporting a water tank made of hide, a spillage arrangement, a piping system of long lengths of bamboo, and a large turtle shell, pierced with holes and suspended above a stall. A long vine is stretched from the stall to the spillgate to control the flow of water."
There is less dialogue in this film than in earlier Lesser films, thereby providing for more action and suspense. And the critics noted that Weissmuller looked in better shape than in recent films. He was regularly visiting the Hollywood Athletic Club.


The plot also gave some of Johnny's former swimming pals a chance to be in a film with him. Among these, Johnny's brother Peter, who twice came second to him in national swimming championships, Miola Kalili, former middle-distance champion, Stubby Kruger, who used to beat everyone in breaststroke, Paul Stader, paddleboard champion and expert high diver, and Bill Lewis, a former diving title holder. Two footballers also joined the ranks: Charlie McBride, former all-American half-back, and Don Malmberg, a tackle on the 1945 UCLA team. And Syrian-born wrestler King Kong Kashay (1903-1965) appeared as Tongolo the Terrible, a Zambesi wrestler who is bested by Tarzan.
Tongolo: Your strength is that of ten, my friend.
Tarzan: Better luck next time.
Tongolo: Always you say that my friend. Yet each year when you come to Zambesi, it is the same.
  With Tarzan, Tongolo is not so terrible.
The title change may have had something to do with the engagement of Acquanetta as Lea, the high priestess of the sinister leopard cult. The sultry beauty had just left Universal, and Neumann decided she would be perfect in the role. Consequently, he got hold of her agent and the lady was signed.
Acquanetta was born Burnu Davenport in Cheyenne, Wyoming and spent her youth in Pennsylvania. She had an interesting pedigree, as her paternal grandmother was Cherokee, and her great-grandfather was an illegitimate son of the King of England. She began her career as a New York model. Soon she was on her way to Brazil, via Los Angeles. While in the City of Angels, she was spotted by Universal, who thought of her as a Maria Montez type. But her contract was more to remove her as competition for the Queen of Technicolor than anything, and she finally left Universal. It was then that Neumann grabbed her.
Somehow, she garnered the title of Venezuelan Volcano, despite her real background. In an interview she stated that she left pictures early in her career because of the way men came on to her. And then President Roosevelt asked her to be a goodwill ambassador to Mexico. While there, she met her first husband. With him she had a son who died of cancer before he was five. Later she married Jack Ross and had four sons with him.
Acquanetta enjoyed working with the Tarzan cast, even Tommy Cook, who, she says, was always playing tricks on the set. She found Weissmuller a nice man. "He'd sit and tell jokes a lot and also episodes from his life and memories of his past." And when Weissmuller was considering the Jungle Jim series, he asked her to join the cast, but she declined.

Edgar Barrier played the fanatic, Lazar, who views the current interference by so-called civilization as a threat to the traditional customs of his own people. Together with Lea, they plot to destroy Zambesi, and establish their own cult as the dominant force of the jungle. Of the two, Lea is more wary, more psychologically attuned to the need for subtlety in dealing, not only with the government, but also with Tarzan.
Lea: Tarzan is clever. His experience in the jungle has taught him to suspect.
Lazar: It is the hunter who will be hunted.
Lea: No Ameer, we must be cautious because of Tarzan... So the Commissioner has come to hunt leopards. Tarzan too will find leopards. No enemy is more harmless than he who has been killed by ridicule.
So she reasons that when the hunting party is attacked by real leopards, the Commissioner will not buy Tarzan's logic. Nor does Jane.
But Lea is less prudent when it comes to her younger brother, Kimba. Against the advice of Lazar, she allows him to go and spy on the jungle king and his family, unaware that he is masterminding his own strategy to claim a victim's heart.
Lea: We've avoided Tarzan, ever since we've been here.
Kimba: But if I go, my eyes can see all the jungle man does; my ears can hear all he say.
Lea: You're not old enough.
Kimba: But it's time for me to prove to be warrior.
Lea: You say he [Tarzan] was not fooled.
Kimba: No, I'm sure of it!
Lea: You go only to watch?
Kimba: Yes, Lea. I'll only go watch.
Lea: You will be careful?
Kimba: I'll only go watch Tarzan, and lady with golden hair.
But in the original script, it is Lazar who gives the boy permission to spy on Tarzan.
Kimba: Maybe Kimba should go watch Tarzan.
Lazar: If I should send anyone to watch Tarzan - it would be a warrior - not a boy.
Kimba: I am old enough. It is time for me to prove to be warrior.
Lea: No, Kimba. You are too young.
Kimba: Not warrior yet maybe, but my eyes can see all the Jungle Man does, my ears can hear all he say.
Lazar: You will only go watch Tarzan?
Kimba: Yes, Ameer.
Lazar. Then go. Be careful.
Kimba: I will only go watch Tarzan, (then slyly) and the lady with the golden hair.
Later, Lazar, sensing that Kimba has gotten himself into trouble, sends warriors to Tarzan's tree-house to get Kimba, and to capture Jane and Boy.
Barrier had been originally named for the cast of Tarzan and the Amazons, but the role went to Don Douglas. In retrospect, he seemed more suited to his role of Lazar, than to that of the popular novelist, Anders.
Born in 1907 in New York City, Edgar Barrier was perhaps best known for his radio work. He had appeared with Orson Welles on the Mercury Theatre in the late 30s, and did a number of radio playhouses. In 1945 he played Simon Templar in the radio version of The Saint. In films, he usually played a villain as in the Maria Montez cult film Cobra Woman (44), and A Game of Death, the 1945 remake of RKO's The Most Dangerous Game (33). Occasionally, he was on the side of right as in The Golden Blade (53) with Rock Hudson. His abilities were superior to his usual roles, as he demonstrated his potential in classic films like Macbeth (48) and Cyrano de Bergerac (50), but at least it can be said that his parts were varied. It was, however, his voice that was distinctive, so that even though we do not see him in Sherlock Holmes and the Voice of Terror (42), we recognize his unmistakable imprint as the eponymous voice.
In the 50s, Barrier also appeared on television shows like Broken Arrow, Zorro, The Rebel, Hawaiian Eye, 77 Sunset Strip and Richard Diamond, Private Detective.
He was only 57 years old when he died in 1964. His final role was in the TV Ramar of the Jungle film, Eyes of the Jungle made that same year.
Lea's "lieutenant" Mongo was played by character heavy Anthony Caruso, born in 1913, an actor who began his career as a singer. Although he was reasonably successful, he turned his attention to acting, and his first role was as a villain in Johnny Apollo (40). From that moment, he was almost typecast in the bad-guy department, although he had sporadic respites as the hero's assistant in films like Desert Legion (53). Caruso continued in films on a regular basis well into the 70s before retiring, but came back to do Grizzly Adams: the Legend Continues in 1990.
This was Caruso's only appearance with Weissmuller, but he returned in 1950 as Lex Barker's adversary in Tarzan and the Slave Girl. He also had a featured role in the Star Trek episode "A Piece of the Action" (69), in which the Enterprise encounters an alien society behaving like the Chicago crime families of the 30s.
Portraying Lea's homicidal kid brother was 16-year-old Tommy Cook, born in Minnesota, but in California early on. Always the prankster, Acquanetta recalled his penchant for playing tricks on the set. Johnny Sheffield sensed that Cook had a chip on his shoulder, but added that they got along quite well.
Cook's Mediterranean features made it possible for him to play ethnic roles, such as Little Beaver in a Red Ryder serial, and Kimbu, the native boy in Jungle Girl (41) with Frances Gifford. In his later teens, he was often cast as a juvenile delinquent, or worse. One of his first roles as an adult was in the shlock Sci-Fi film Missile to the Moon. By the late 50s, his interests included becoming a tennis pro, a passion which he transferred to the screen in a small part in the Doris Day comedy Send Me No Flowers (64).
As he grew older, he became a promoter, arranging celebrity tennis tours, and concert performances. He co-created the TV extravaganza Celebrity Challenge of the Sexes, which popped up irregularly in the 80s. He was also an associate producer of the TV film Rollercoaster (77).
In the original script, Kimba was supposed to be about 12 years old, but it seemed more practical to have him a few years older. Thus he would be a reasonable foil for Johnny Sheffield, with whom he was to fight.
Rounding out the supporting cast were Iris Flores, Lillian Molieri (Miss Central America of 1945), Helen Gerald and Kay Solinas as the four maidens whom Tarzan must rescue from the clutches of the murderous leopard cult.
Carroll Young was once again called upon to write the script, and like the earlier scripts, he tried to work in the Arabic language. It was never taken up by Lesser.
For instance, in the original script, there is an English couple witnessing the snake charmer's performance, and when the latter ends his session, he puts a sign on the snake's basket in Arabic. The woman asks her husband: "What does that say, dear?" He looks in a pocket dictionary and replies: "Out to lunch."
When the script was sent to the Hays Office for its approval, the Office wrote back that the more gruesome scenes had to be excised. This included many of the closeups of the leopard men killing the members of the caravan, including one particularly vicious scene in which a leopard man is to rip out the heart of a soldier and hold it up for all to see.
And Kimba is somewhat less vicious in the film than in the script. For instance, when Boy and Jane are captured at the tree-house, Kimba grabs Jane, pulls her away from the other leopard men, and lifts his clawed hand as if preparing to tear out her heart.
Kimba: Now Kimba be warrior!
  (He is about to strike the horrified Jane)
Mongo: No, Ameer say bring woman and boy to him.
Kimba: But her heart is mine! mine!
Mongo: That is for Ameer to say.
The original script also called for an additional character named Tembo, who was to be a lead caravaneer for the party heading to Bagandi. As the attack is made on the caravan, Lea and Lazar are watching from a nearby hilltop. Tembo is fighting bravely, managing to kill one of the leopard men before being wounded. He is able to slink away. Yet he is not mentioned again in the script, so what the author had planned for him, we may not know. At any rate, this character never made it to the finished film, unless he became the lone survivor seen in the opening sequences of the film.
And when Tarzan is struggling with the maidens' captors in the water, crocodiles were supposed to appear to dispatch the floundering leopard men.
Another variation of the flight of Tarzan and the maidens was originally written as follows. A leopard man reaches one of the girls who has become entangled in brush. Tarzan returns and knocks him out, then uses him as a counterweight in a deadfall trap he makes by tying a vine under his armpits. Then he raises him off the ground. As the man regains consciousness, he thrashes about shrieking. His comrades come to his rescue and cut the vine. This releases a log attached to the vine which comes crashing down on the men.

Other interesting touches include the scene in which Tarzan, Boy and Cheta go in search of bamboo to repair the shower bath. The trio was supposed to remind the audience of the famous Spirit of '76 painting. It is doubtful that the intended allusion was picked up; certainly children viewing the film would not have made the connection.
When Kimba refuses to leave Jane alone, she says: "You are certainly a boy after my own heart." Kimba turns in shock until he realizes it is only an expression. And in the original script, he later picks up on it when sharpening the knife with which to kill Jane. "Like Lady say - Kimba is boy after your own heart."
I have recently thought about this film, and feel now that the sequence involving Tarzan's rescue of the maidens could have been more exciting. Instead of his being captured, which is rare when he's in his own element, I think he should have begun as was filmed, rescuing the maidens and then laying traps for the pursuing leopard men. Then, when he seems surrounded, he would call his elephants to the rescue. This could have been beautifully choreographed. Following the trampling and/or dispersal of the leopard men, Tarzan would hand the maidens over to the Commissioner, whom he would find in the jungle. At that time, Cheta could arrive to tell him of Jane's and Boy's capture by the leopard cult. He would then swing through the trees to their rescue. All in all, an action-packed adventure could have been even better.

Reviews

The Toronto Star

The ape man has lost none of his rugged charm for the youngsters as was vociferously demonstrated at the showing of "Tarzan and the Leopard Woman" which this column caught. In this latest attack on credibility, Edgar Rice Burroughs's hero is just as exciting a personage as he was a quarter of a century ago when Elmo Lincoln swung through the studio trees as the screen's first Tarzan.

This time the ape man, his wife, Jane, and Boy are all tangled up with a strange African tribe which speaks excellent English, but runs around, nonetheless in leopard skins and long claws, waylaying pretty maidens and generally wreaking havoc. The head push of this outfit is a vicious lady named Acquanetta in private life, who is a high priestess, natch with a rather obnoxious young brother.

Johnny Weissmuller, who seems to have removed a few inches of girth for this production is again Tarzan, and Brenda Joyce turns up as Jane, Johnny Sheffield, growing rapidly, is still Boy. Cheta the chimp is of course present and one of the tricks he has learned since the last time round is to play a flute rhythmically and rhapsodically, with a few hot licks thrown in now and again for good measure.


Variety

There isn't a dull moment in "Tarzan and the Leopard Woman." This latest one of the hardy perennial series follows the regular plot and action formula frankly and expertly. Script is tightly plotted, tells the story convincingly and keeps the exploits of Tarzan and his pals vivid but plausible. Production values are tops.
Picture is sure-fire box office with Tarzan fans of all ages and could be one of the top grossers of the series to date.

Introduction of a femme menace into the yarn in the person of Acquanetta as high priestess of Leopard Men cult is all to the good. She displays plenty of what it takes to stir male interest and handles her acting chores adequately.

Johnny Weissmuller in the title role and Brenda Joyce playing opposite him carry on the Tarzan tradition with dramatic effectiveness. Johnny Sheffield repeats previous good performances as "Boy," and being now 14 years old, and five feet, six inches tall, makes no mean figure alongside Tarzan. He gets a fight scene of his own in the pic with Tommy Cook, who also puts on a creditable performance as a boy heavy.

Entire supporting cast is excellent with special mention going to Edgar Barrier as the male menace and Dennis Hoey as the British commissioner. . .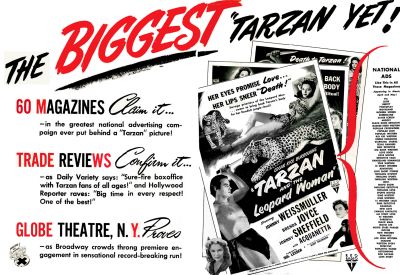 An original trade ad