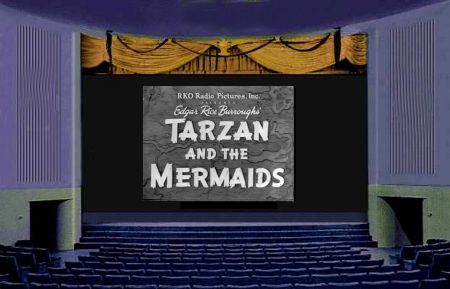 Cast and Credits
Tarzan
Jane
Mara
Benji
Varga
Commissioner
Luana, Mara's Mother
Palanth, the High Priest
Tiko, Mara's Betrothed
British Inspector General
Maklana
Stunt Doubles

Bits:

Johnny Weissmuller
Brenda Joyce
Linda Christian
John Laurenz
Fernando Wagner
Edward Ashley
Andrea Palma
George Zucco
Gustavo Rojo
Matthew Boulton
Salvador Godínez?
Angel García, José Estrada

Lilia Prado, Silvia Derbez, Magda Guzmán, Ana Luisa Peluffo

 

Director
Producer
Associate Producer
Story and Screenplay
Camera
Supervising Editor
Music Score
Art Director
Costume Designer
Additional Dialogue
Production Manager
Unit Manager
Publicity Director
Animal Trainer
Production Assistant

Associate Production Personnel

Associate Producer
Associate Director
Assistant Directors
Photography
Associate Film Editor
Art Director
Sound Mixer
Production Managers

 

Robert Florey
Sol Lesser
Barney Briskin
Carroll Young
Jack Draper
Merrill White
Dmitri Tiomkin
McClure Capps
Norma
Albert de Pinad
Ray Heinz
Robert Stillman
Jerry Hoffman
Al Antonucci
Bob Larson

 

Joe Noriega
Miguel M. Delgado
Jaime L. Contreras, Moises Delgado, Bert Briskin
Gabriel Figueroa, Raúl Martínez Solares
John Sheets
Gunther Gerzso
Rafael Ruiz Esparza
John Mari, Antonio Guerrero Tello
Running Time: 68 minutes
Filming completed: September 15, 1947
Copyright Date: March 23, 1948; Renewed April 10, 1975
Release Date: June 1948
First showing in Canada: June 28, 1948
  Tarzan et les sirènes [Fr]
  Tarzan in Gefahr [Gr]
  Tarzan e le sirene [It]
  Tarzan e as sereias [Pg]
  Tarzán y la(s) sirena(s) [Sp]
 
Synopsis
Mara, a lovely maiden from the forbidden island of Aquatania, has been selected to wed the "living god," Balu, in reality a white pearl thief named Varga. Together with his henchman, Palanth, the high priest, he has been pilfering pearls from the superstitious natives for years.
Mara escapes and is found by Tarzan. He and Jane agree to help the girl, but she is recaptured and taken back to the island. Tarzan follows.
Tiko, an exiled Aquatican to whom Mara had been originally betrothed, comes upon Jane. Meanwhile, Benji, a combination minstrel and mailman, takes a black pearl which Mara had given to Jane to the local authorities, and the new commissioner decides to visit the island. On the way, he and Benji pick up Tiko and Jane, and the party heads for the island.
On their arrival, they are taken prisoner and Palanth is about to pronounce a sentence of doom, when Tarzan appears, disguised as Balu, and has them all released, and Mara is returned to Tiko. But before their marriage can take place, Varga reappears as Balu and through Palanth orders the outsiders to be hurled into the sea.
Before this can happen, Tarzan unmasks the spurious god, and he and Palanth suffer the fate intended for their victims.
Commentary
In July 1947, when Tarzan and the Mermaids began shooting, no thought had been given to the possibility of replacing Weissmuller as Tarzan. Indeed, Lesser had decided that this was to be an A picture, because there were to be big production numbers and, according to son Julian, he wanted to give the picture size ... à la Lost Horizon. He hired Dmitri Tiomkin to score the film, obtained the services of MGM contract player Linda Christian, and Robert Florey was engaged to direct. Moreover, Mexico was selected because of RKO's part ownership of the Studios Churubusco in Mexico City. Yet, Carroll Young was retained to write a script that was termed 'frivolous' by Florey years later. Of course, in aiming for A picture status, Lesser broke a cardinal rule for his Tarzan pictures: they must never take themselves seriously. Ironically, Tarzan and the Mermaids might have fared better had Lesser used his usual crew, and he would have spent a good deal less money. And if he really wanted an A picture, why did he not film it in colour? It would have enhanced the Acapulco landscape immeasurably. And in the last analysis, the budget of more than a million dollars seems excessive for a film that boasted a screen time of 68 minutes.
Part of the deal with the Churubusco Studios would seem to have been the use of local talent, some of which proved frustrating to director Florey. He recalled cameraman Gabriel Figueroa's obsessive delays in capturing just the right number of little white clouds above Cheta's head as an example of his artistic dementia. Andrea Palma (1903-1987), Mexico's version of Helen Hayes, was cast as Linda Christian's mother. Her screen time, fortunately, afforded little opportunity to tarnish her reputation. Gustavo Rojo (1923 - ), a Mexican heart throb, appeared opposite Linda Christian as her betrothed. Rojo was a Uruguayan, who had spent the previous four years in Mexico making films, apparently 12 top films, if one is to believe the pressbook. He later had a prominent role in The Valley of Gwangi. In Tarzan and the Mermaids his role is passive and more decorative than anything, and certainly not conducive to better roles in American movies, although in all fairness to the actor, the character was really given little opportunity to shine.
Fernando Wagner's performance as lead villain was dismal. He had the looks for the part, but his delivery of lines was one of the worst, which is surprising, as he had a prestigious reputation as an actor and director. At times, he gave the impression that some of his lines were not learned sufficiently, or that they were improvised. Or perhaps his knowledge of English hampered him. Whether author Carroll Young was at fault or not is speculative, but he was definitely out of place in a film that was to be of A calibre.
 Perhaps the worst idea was that of the singing postman, Benji, which was inanely rendered by radio crooner, John Laurenz. Many of his antics were the type usually written in for Cheta, who seemed to have nothing left to do in this film, although in the original script, she did. At the film's conclusion, Cheta imitates Benji's singing, which seems only fair since Benji's screen time seemed to be spent imitating the chimp. Despite protests, Lesser insisted on this role. Laurenz had a popular radio show, and one can only assume that Lesser thought that his inclusion might be a drawing card among the Mexican-American population. Following the release of the film, Laurenz authored an article about the making of the film for Filmland magazine. The details he describes seem more fanciful than the plot of the film.
As stated earlier, the film was shot in Mexico. The interiors were shot at Studios Churubusco outside Mexico City, and the exteriors in and around the Pacific coast town of Acapulco. The river passing by Tarzan's home was filmed at Puerto Marqués. This area involved five weeks of shooting. Aquatania was Will Beach, which involved 8 days of filming. The long shots of the tree-house were the familiar ones used in earlier RKO Tarzan features. The exteriors of Balu's temple were lensed at the Aztec ruins of San Juan de Teotihuacán. The high dives were photographed at La Quebrada and the caverned lagoon shots were made at Pie de la Cuesta.
It was at La Quebrada that tragedy supposedly struck when stunt double Angel García was dashed against the rocks after making a spectacular cliff dive. This claim has been disputed by locals, who say that minor accidents occurred, but nothing so spectacular as this. They suggest that it was merely Hollywood's attempt to publicize the film. Nor did John Laurenz make any reference to such an event in the article he wrote about the making of the film.
Although she had already had bit parts in several minor films, Linda Christian (1923 - ) was formally "introduced" to the film-going public in this RKO programmer. Sol Lesser had been in touch with her to do this film, and was especially interested when he discovered she was also an excellent swimmer.
Born Blanca Rosa Welter in Tampico, Mexico, Linda Christian had already had a rich and eventful upbringing, since her father, a Dutch petroleum engineer, had whisked his family from Mexico to Venezuela, then to Holland and eventually to the Middle East.
An April 1949 Movieland article credits Johnny Weissmuller's business manager Bo Roos with the idea of getting Linda Christian for the role of Mara. He had purportedly met Linda and her mother in Mexico City where Linda was modeling. Later, when Sol Lesser was lookng for an actress to play the part, Roos suggested Linda.
When Sol Lesser approached her, Christian had already had a screen test with Errol Flynn at the Warner Brothers studio, had a 6-month contract with RKO, done serious modelling, including being named the first Miss Anatomic, 1945 by Life Magazine, before finally ending up with a contract at MGM, but she was seemingly going nowhere with her film career.
Enter Miguel Alemán, the president of Mexico, and a family friend. He made it known to MGM that it would please him very much to see Linda starring in a film. L. B. Mayer, always ready to oblige heads of state, let it be known among his directors and producers that they were to find something suitable for the Mexican-born beauty.
After some fruitless efforts on their part, Linda told Mayer about Lesser's offer. The MGM head did not feel that he would be honouring the Mexican president's request by lending her services to a minor studio for a Tarzan picture, but the actress pointed out that so far, MGM had not found anything for her to do yet, and at least she would have a starring role, and the film would be shot in Mexico. So reluctantly Mayer gave her the green light, and in three weeks she was on her way to Acapulco.
While there, she crossed paths with Tyrone Power, whom she would later marry, but despite media reports to the contrary, there was no other contact between them. She did, however, spend some time with her friend, Turhan Bey, who was also filming in Mexico.
Following Tarzan and the Mermaids, Christian had minor parts in a few American films, such as Athena, with another future husband, Edmund Purdom, and in The VIPs, but her roles came about because of her fame as a beauty rather than any acting ability. In 1954, she was cast in a lead role for The Adventures of Hadji Baba, starring John Derek, but a sciatica attack forced her out, and the role went to Amanda Blake. Linda also made a few films in Europe, but the media coverage of her jet-set lifestyle always overshadowed her film career.
She had two daughters by Tyrone Power, Romina and Taryn, both of whom had some success as actresses, and following her divorce from Purdom, she married into European nobility for a time.
Having a residence in Acapulco, she was one of two celebrities to attend the funeral of her co-star, Johnny Weissmuller, the other being John Gavin, actor and U.S. Ambassador to Mexico.
In a 1998 interview, Christian was asked if there were any moments in her career of which she was particularly proud, and she mentioned first the swimming sequences she had done in Tarzan and the Mermaids.
George Zucco gave a characteristic performance as the evil high priest Palanth. Born in Manchester, England in 1886, Zucco came first to Canada in 1908 to begin his theatrical career, later touring the U.S. with his wife Frances in a Vaudeville sketch titled The Suffragette in 1913. Returning to England, he did theatre and made films before making a second journey to the U.S. in 1935 to play Disraeli in Victoria Regina. He then went to Hollywood and spent the rest of his career playing virtually any role he was offered, usually in horror films, where he was occasionally a red herring to the real villain. After a bit role in David and Bathsheba, Zucco led a reclusive existence and was eventually placed in a sanitarium where in 1960 he died of pneumonia.
It has been pointed out that he is the only actor in Tarzan and the Mermaids that does not appear self-conscious. Still, is Zucco's character supposed to be a white man or an Aquatican? One supposes the latter "If my people...", but his diction in the film seems to favour the former. Other than this, his performance in the film is one of the better ones. Linda Christian remembers him as a quiet and reserved man, who did not socialize with the rest of the cast. She felt that perhaps he was not feeling well.
As the new Commissioner, Lesser hired British import Edward Ashley. An MGM contract actor since his arrival in the States, Ashley had appeared to advantage in such films as Pride and Prejudice (40) and Maisie Was a Lady (41), until he began to freelance in the late 40s. He also appeared in Lex Barker's Tarzan's Peril (51). He started out playing cads, but as he grew older, his appearance became more dignified, even if he was not given much to do, as in Tarzan and the Mermaids.
The film itself is a series of cacophonic disturbances with mixed sensory messages, and must have appeared nightmarish to director Florey, who had to contend not only with a temperamental Mexican photographer, and a stubborn producer, but also with an inadequate script, and some adverse weather conditions, which at one point interrupted the filming when exterior sets were destroyed by a hurricane. Moreover, the music score, while marvellous, intrudes on the film and is hardly appropriate. Our auditory senses are continually bombarded, the result being that our visual senses are deprived. The story line, such as it is, is virtually lost because of this. The editing is suggestive of vignettes rather than a continuous story. It does recall Burroughs' technique of alternating chapters between two subplots, but it only adds to the confusion.
 In addition to this, Sol Lesser suffered a heart attack during filming and had to return to Los Angeles.
Undoubtedly the plethora of technical assistants, especially — dare one say it — of Mexicans is partly responsible for the resultant cacophony, but in the final analysis it is the producer, having the last word, who must assume responsibility for the finished product.
On the plus side, the swimming and diving sequences, and the final ten minutes of the film are the few saving graces of the film, and the diving choreography, the precision of which added a genuine artistic touch, was a real source of pride for the director, one of his other touches being the creation of the jousting sequence.
The battle with the giant octopus was also noteworthy, and it was borrowed for Tarzan and the She-Devil (53), in a dream sequence in which Joyce Mackenzie conjures it up during a bout of delirium.
Despite the shortcomings of Carroll Young's script, the continuity flaws cannot be laid at his doorstep. These problems stem from the butchering or excision of important scenes from the original version.
The Original Story
The original script opens with Benji paddling his canoe and singing. As he nears Tarzan's home, there is a vague and fleeting glimpse of a flashing mermaid-like creature, swimming, then disappearing almost immediately below the water's surface.
On shore, Cheta is involved with her latest project: egg collecting. She has been collecting eggs of different shapes and sizes. She puts an ostrich egg into a pigeon's nest, and then sits on it as if to incubate it. [This and other similar scenes were to be interspersed throughout the film.]
Benji relates the contents of Boy's letter, which he has forgotten to bring with him, then Tarzan leaves to go fishing. Cheta, meanwhile, tries to steal Kota the Turtle's eggs.
Mara, a beautiful Aquatican, becomes entangled in Tarzan's fishing net, and when he brings the girl ashore, he shows her to Cheta and says "Look what Tarzan catch!" Cheta gives a wolf-whistle.
The next day, Cheta continues her battle with Kota the turtle, as Tarzan spots Mara's canoe adrift. When he goes to retrieve it, four Aquaticans rise up and attack the ape man. The fight ceases and the natives rush off only when they hear a signal from their companions indicating that they have Mara. Tarzan pursues the party to Aquatania.
Later in Mara's hut, the girl sits in tears as her mother addresses her.
Luana. Well may you weep, my daughter. To flee from marriage to Balu was shameful.
Mara. I do not weep in shame, but in sadness. I weep for Tiko, who for love of me was banished to die in the outer world.
Then a trumpet sounds signalling that Mara is to be brought to the temple for the wedding ceremony. But before being taken up to Balu, the girl breaks free and dives into the sea. Tarzan, who is witnessing the ceremony, dives in after her. Together they head for the mainland, midway between the tunnel and the village, as the High Priest Palanth's retainers search for Balu's bride.
Palanth returns to Balu, in reality a pearl trader named Varga, while Tarzan and Mara hide out in the jungle near the village. The distraught girl relates her tribe's unhappy history to Tarzan.
Mara. But for you, Tarzan, I would now be asleep in the great waters, or... or imprisoned forever in the temple - as the - bride of Balu.
Tarzan. Who is Balu?
Mara. He is the god of our people.
Tarzan. Where he come from?
Mara. Our people have always worshipped Balu as God. Then, one day, when I was little girl - Balu come alive!.. I remember... as one remembers pain, for it was a time of sorrow... My father, our king, had died. Elders meet in temple with High Priest. High Priest want to be king himself. Then - terrible trouble come! Word brought to elders - invaders coming! Elders and High Priest go into jungle to fight invaders... everyone killed fighting.. Only High priest return... alive. It was then that Balu move... come alive. High Priest say Balu come from heaven.. Balu rule and High Priest speak word of Balu, just like king.. Temple Island taboo now. Only High Priest go in temple now.
When Mara is asleep, Tarzan leaves to investigate the temple. He is seen by two natives who report to the High Priest. He asks them to go to the temple and protect Balu. Once in the temple, Tarzan is waylaid and captured, as Varga leaves for Nyaga.
The next day, Jane is looking out over the river. Tiko appears and Jane invites him to stay.
Back at Nyaga, The new Commissioner, Benji and the Inspector General discuss a pearl given to Tarzan by Mara. The Commissioner and Benji leave for Tarzan's home.
Back at the island, Tarzan is chained to a stake on a large barren rock. Other stakes with bleached bones suggest that this is a death area. Tarzan is perspiring and weakened.
Mara, who has come in search of Tarzan, appears and is captured.
The Commissioner goes to Tarzan's home, then he, Jane, Tiko and Benji head for the island. As the party's motorboat clears the tunnel, retainers take the intruders. Tarzan works at the stake, all the more when he sees Jane is there. Finally he frees himself, and dives into the water. He swims toward Taboo Island, then goes into the temple, where he finds and dons Balu's costume.
He passes by Mara, who recoils in terror. He touches her shoulder reassuringly and gently, and heads for the High Priest's quarters. The judgement scene is basically as in the film.
Then Tarzan returns to the rock, where the High Priest's retainers find him. "Balu is merciful. You are to be set free."
Carelessly, Tarzan flings the chain from his wrist with what appears to be a magical display of tremendous strength. The men stare in bewildered astonishment. Surely this is the magic of Balu.
With celebrations going on, Mara and Tiko are swimming gracefully underwater. Maklana invites Benji to joust, and the boastful Benji accepts.
Tarzan and Jane are worried about what the High Priest will do when they leave. Tarzan goes and speaks with the High Priest.
Tarzan. You look for Balu? - I like to dive for pearl and give to him.
Palanth. Do not speak so lightly of our god lest his vengeance destroy you.
Tarzan. Balu save Tarzan's life. Sun hot - Night cold on rock.
Palanth. My retainers have told me how the chains came apart of themselves.
Tarzan. Yes - Magic of Balu! When he come alive again?
Palanth. You mock our god!
Tarzan. Balu move - walk - sleep in bed. Eat, too. Take pearls. What he do with them?
Palanth. Whoever enters the temple - forfeits his life! The island is taboo!
Tarzan. Who live in temple? Not there now. When he come back?
Palanth. If my people knew anyone posed as Balu - they would destroy him.
Tarzan. If people know Balu a man - they destroy you.
Varga has been back to Nyaga, and realizes the danger to his profitable enterprise. He heads almost immediately back to the island, stopping at Tarzan's home before continuing down river.
Back at the island, Benji had promised to joust and dive. He tries to use the dive as an excuse to postpone jousting, but Tarzan says he will dive for him.
When Palanth sees Varga returning after Tarzan's spectacular dive, he summons the people and the visitors to a reckoning. When he commands the people to throw the condemned over the cliffs, they are stunned. Now some of them say in protest...
"No! They are our friends! They would not betray us. There is no evil in their hearts." Palanth continues. "Silence! Did you not see Tarzan shorn of his strength and swallowed up by the sea? Do you not wonder how this came to pass?... It was the will of Balu! So evil was Tarzan that Balu destroyed him."
Mara tries to intercede, but Palanth silences her. "Be silent, Mara. Be grateful! Though you have sinned, the merciful Balu still accepts you as his bride!"
Varga's men are fighting with Tarzan in the sea, but he escapes them. As they search, Tarzan must fight a giant octopus. The fins of several sharks are seen after Tarzan kills the octopus. The four men retreating into the cave are attacked and killed by the sharks.
As Tarzan climbs the rocks to save Jane and the others, two of Varga's men lie in ambush inside the temple. Tarzan sees the outline of guns and goes above. When the men appear outside door, he jumps on them and knocks them out.
After revealing the Balu hoax to the people, Tarzan hurls Varga into the sea. Four retainers fling the last of Varga's henchmen from the cliff.
The concluding scene takes place as Cheta takes out the big egg, raises it above her head - and throws it to the ground. As it hits the ground, it breaks open. Out of it steps a strange bird: the body, legs and tail of a bird, but a face that is a miniature replica of Cheta's. It makes a chirp that sounds like 'Ma-ma' as the curious bird walks out of scene. Then there is a close-up of Cheta as she watches the monkey-bird in astonishment.
Clearly, the scene in which Mara talks about her people's history was essential, and some method should have been found to integrate it into the story, other than through a narrator. On the other hand, the producer or director made a wise decision to toss out the absurd subplot revolving around Cheta and the eggs.
Even the reviews were confusing, as some praised the very things that make the film weak, while others quipped like Walter Winchell, who wrote characteristically, if nonsensically, " 'Tarzan and the Mermaids' again presents Mr. Torso swinging jauntily from bromide to platitude."
When all is said and done, there is little in the film to give it an A status. Aside from its director and music scorer, the film struggles in the B category despite its pretensions to the contrary.
Reviews

The Toronto Star

Tarzan outdoes himself in his newest cinematic exploit, "Tarzan and the Mermaids," with Johnny Weissmuller again in the role of Edgar Rice Burroughs' ape-man and with Brenda Joyce once more portraying Jane. This time Tarzan's adventures bring him into contact with a tribe of amphibious coastal natives, a plot device which gives full scope to Weissmuller's championship swimming abilities. He does more swimming in this than in previous Tarzan films. His underwater rescue of the mermaid heroine and his submerged struggles with an octopus and with a gang of desperate armed natives are thrill episodes. The numerous aquatic scenes make the film very different from its predecessors, but the chimpanzee. Cheta's hamming, and Jane's loyalty remain constant.
Linda Christian, features as chief "mermaid" seeking to escape from the brutal white trader who poses as the natives' god, and John Laurenz as a comic singing jungle postman, are excellent in their roles. Edward Ashley, Fernando Wagner, George Zucco and Gustavo Rojo stand out among the supporting players. Robert Florey has directed the picture with full appreciation of its dramatic value.
Much of the Sol Lesser production, including the colorful water scenes, were filmed around Acapulco on Mexico's west coast, with the result that its scenes are spectacular.
Note. The above review was lifted directly from the pressbook, which explains its glowing tribute.
Variety
"Tarzan and the Mermaids" is standard Johnny Weissmuller, differing only from other jungle epics in that this one was produced in Mexico. Also, it introduces Linda Christian to U.S. audiences and is faster-moving than others in the Tarzan group.
Robert Florey gets credit for keeping an implausible story moving swiftly with a minimum of dull, hokey interruptions. Sol Lesser moved his company into the Churubusco Studios just outside of Mexico City to film the picture. They also went on location at Acapulco, Mexico's west coast watering resort, for many exteriors. Miss Christian hints possibilities. She's comely and has the physical attributes to measure up for the screen.
Thin story is strictly one of those things about a forbidden island in mythical Aquatania where a white trader and his undercover cutthroat employ a fake tribal god to keep the natives subjugated in order to grab pearls. The crooks want Miss Christian as a bride for this god, but she has other ideas. Here's where Tarzan comes in, and where the film gets its tag. He fishes her out of the river accidentally and tells his wife he has bagged a mermaid. Tarzan ultimately unfrocks the phoney tribal priest and his helper but not until after the familiar exciting climax.
Weissmuller gets more chances than customary to show his prowess in the water. Brenda Joyce is his very attractive spouse. John Laurenz, as jungle mail carrier, is a pleasing addition with his guitar-strumming and warbling. George Zucco, as high priest, heads the support.
Two photographers, Gabriel Figueroa and Raul Martinez Solares, helped Jack Draper on the lensing. Result is some spectacular camera work, probably the best on any Tarzan film.
Variety (a second review)
"Tarzan and the Mermaids" has everything that has made the Tarzans a hardy perennial these many years and a bit more. Settings and scenery are spectacular and the thrills include, in addition to the customary jungle action, skin diving and swimming sequences, an underwater battle between Johnny Weissmuller and an octopus and a generous display of slightly-garbed femme shapeliness...
Results, especially the underwater shots are alone worth the price of admission.
Tarzans are invariably good box office and this one promises to outgross its predecessors.