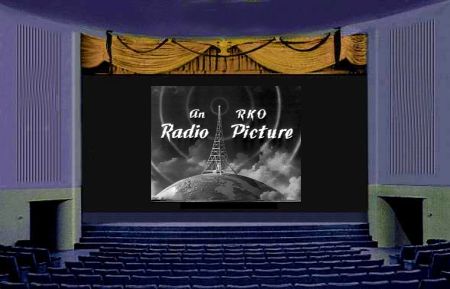 The RKO Films
  Two factors explain the transfer of Tarzan, Weissmuller and Sheffield to RKO. One was the gradually diminishing budgets allocated by MGM to the Tarzan features, a decision which had begun after the death of Thalberg and the completion of Tarzan Escapes. The other was the shrinking returns from the foreign market caused by World War II.
  One showman who was particularly interested was Sol Lesser, the producer who had helped out Edgar Rice Burroughs with MGM at the outset, and who saw in the Tarzan series a strong B-film potential, especially with Weissmuller in the lead.
  Born in Spokane in 1890, Sol Lesser moved with his family to San Francisco before the turn of the century. At age 16, Sol was working as a plumber's assistant, when the building in which he worked was destroyed by the 1906 earthquake. At the time, Sol Lesser's father owned a nickelodeon, and Sol took a job there as an usher and ice cream vendor. In 1907 the ambitious teenager created a distribution company called All Star Features Exchange, and by 1910 he had produced his first movie, The Last Night of the Barbary Coast. He had also opened a branch office in the Los Angeles area, where he filmed What Women Love starring Australian swimmer, Annette Kellerman, to be followed by Oliver Twist, starring Jackie Coogan, then Peck's Bad Boy and Circus Days.
With a distribution company and films to distribute, Sol's next move was to purchase two downtown theatres, a move which expanded into a partnership in a 100-theatre chain.
By 1936, he had made enough money to retire. But that was not his style. 
One of Lesser's winning traits was an ability to deal with people, especially the ladies. When doing Stage Door Canteen, he had to contend with Katharine Hepburn, who did not like the script. He suggested rewriting it to suit her, and the two of them stayed up all night and did so. By morning, la Hepburn declared herself satisfied at the result. And when Paramount insisted that contract player Frances Gifford do the role of Zandra for Tarzan Triumphs, Lesser eased her in by offering her an orchid on the first day of shooting, forestalling any potential conflicts. He also persuaded a reluctant Brenda Joyce to essay the role of Jane at a time when she was raising a young family.

 
  Sol Lesser and Frances Gifford

 

  In 1951, he won an Academy Award for his film Kon Tiki. And in 1952, Sol Lesser was recognized by the Industry as one of the most decorated film producers. This same year, he renewed his rights for Tarzan for an additional twenty years.
  In 1957, RKO was planning to turn over certain of its product to United Artists for domestic distribution, so Lesser and Walt Disney withdrew their films from its inventory, but RKO was still used for international distribution.
  In 1960, he was invited to head an ambitious project, namely the construction of a museum for Hollywood memorabilia on a four-acre lot near the Hollywood Bowl. Because of a series of mishaps, the project was never realized and the memorabilia was put in storage. The acreage is now a parking lot. But that same year he did win the Jean Hersholt Humanitarian Award at the Oscars, undoubtedly because of his devotion to the motion picture industry and his philanthropic endeavours.
  After retiring from active film production, Sol Lesser earned an M. Sc. in Film Education from USC at age 86. His thesis was "The Disciplined Procedural Model for Educating the Filmmaker at the Graduate Level." He had been teaching a seminar in motion picture production for the previous 8 years, and he continued teaching motion picture production courses at USC, until a heart condition forced him to curtail his activities.
  He died in September, 1980 at the age of 90. His wife Fay, had predeceased him by one year. He left behind two children, Julian and Marjorie, and five grandchildren.
  So, armed with the blessings of Edgar Rice Burroughs, Weissmuller's contract, and young Johnny Sheffield, Lesser moved to the RKO Studios in 1942. Maureen O'Sullivan, heavily involved with raising her own family, declined all offers to continue in the series, although from time to time it seemed as if she were prepared to return.
  The decision to produce at RKO Studios was indeed a happy one, for this studio possessed a matte department second to none, a backlot that boasted its own jungle and lake, and a 50% ownership of the Churubusco Studios in Mexico.
  Rather than dispose of the character of Jane, Sol Lesser decided to have her visiting an ailing mother or nursing wounded soldiers in London. He still hoped that Maureen O'Sullivan might change her mind, and if she did not, it gave him breathing space to secure another actress to replace her. Indeed, in December 1943, both Louella Parsons and Newsweek announced the return of O'Sullivan to the role of Jane in the forthcoming production of Tarzan and the Amazons. Of course, this did not occur, partly because of the imminent birth of daughter Mia Farrow. So Lesser hired Brenda Joyce, who played the part for Weissmuller's remaining Tarzan films, and the first of Lex Barker's.
  The first episodes cost about $500 000 to produce, but by the time Tarzan and the Huntress was being filmed, the price tag was closer to $800 000. Still, they grossed from 2½ to 3 million dollars. They seemed to top any Hollywood products shown in foreign markets. One, for instance, ran 18 weeks in Cairo. And in some Asiatic countries the arrival of a new Tarzan film was the signal for a white tie and tails premiere, with the local populace fighting to get seats. In Shanghai, Bombay and Egypt, Tarzan broke the record of all the movies released by RKO in its history. Quite a feat, considering RKO had the Astaire/Rogers films and those of Walt Disney.
  While RKO boasted its own jungle and lake on its property, many exterior shots were done at the Arboretum in Arcadia. When filming there, Lesser set up a camp of about 20 trailers for food, dressing rooms, sound equipment, props and wardrobe. If the scene was laid on water, the main lagoon was used with rafts for cameramen, and lights were set on platforms in the water, and the electricians and prop men went native with a vengeance.
  Usually they wore bathing suits all day and whipped in and out of the water. The company nurse paddled around in a boat with tropical flowers in her hair.
  For the first two films, Lesser was able to obtain the services of MGM's live-in animal trainer, George Emerson, as well as Jackie the chimp, and Sally, the juvenile elephant. Other animals that appeared in later films were Melvin Koontz's black leopard, Dynamite, and Olga Celeste's leopards. And when Jackie, the Chimp was no longer available, Al Antonucci, late of the St. Louis zoo, became a new Cheta's trainer.
  Throughout the forties, other titles were announced in the Hollywood Reporter, none of which was filmed. First there was Tarzan and the Intruders, which was to follow Tarzan and the Leopard Men, which itself became Tarzan and the Leopard Woman. On Jan. 10, 1946, Barney Briskin, one of Sol Lesser's assistant producers, signed Ford Beebe (of Bomba fame) to direct the next Tarzan feature which was temporarily titled Tarzan and the Elephant Boy, to star the familiar trio. Shortly after, Weissmuller re-signed with Lesser for a three-picture deal, to begin with a film titled Tarzan's Dangerous Game. This title became Tarzan and the Huntress.
 While it was true that Sol Lesser seemed to lack a natural artistic sense, this was hardly a prerequisite for turning out entertaining and lucrative Tarzan films. Being a producer, he was first and foremost a showman. It was only when he attempted to stray into uncharted waters, like the ill-fated Tarzan and the Mermaids, that the results were less than optimal. But he did have the good sense to return to what he did best, and in his resiliency and never-say-die approach to life lay the secret of his success.